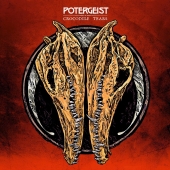 Potergeist
Crocodile Tears
Label: God
Genre: Stoner / Post Metal / Industrial Rock
Founded in Athens, Greece in 2004, Potergeist started out as a southern
metal band in the vein of Down and C.O.C. After countless gigs on the
Athens scene the band recorded their debut "Southwards" in 2006 which
was released a year later on Burning Star records. In 2008, the band enters
the studio again to release their follow up self-titled EP, which showcased a
harder nosed feel than its predecessor. In December 2010 Potergeist
recorded their 2nd full length album "Muddy Mermaids". The same year
director Costas Zapas inspired by the music of the band works with Alex S.
and Asimakis Repas on his new movie "The rebellion of red maria". The duo
created a crushing, metal-tinged soundtrack twisted enough to match the
hardcore and often twisted world of Zapa. In 2012 "Muddy Mermaids" is
released through Distroball productions and Warner Music. With "Muddy
Mermaids" the band explored darker and bluesier territory. The term
"Swamp Metal" was quickly coined by the media as a means to describe
Potergeists dark southern blues sound. In June 2012 Potergeist were
chosen to open for Lynyrd Skynyrd in Athens. In 2013 Potergeist started
recording their 3rd album working with David Castillo (Katatonia, Opeth,
Draconian, Amon Amarth, Inme, Nasum). Angry Blue (Guns and Roses,
Danzig, Faith No More, Slayer, Melvins) designed the cover for the
affectingly named "Swampires", which was released through Distroball
productions and B-Otherside records on December 2014. Following a
stunning unplugged session with Red Bull the band are singed with the
popular energy drink for an endorsement deal. Through the years Potergeist
have shared the stage with the likes of Lynyrd Skynyrd, Monster Magnet,
Pro Pain, The Haunted, The Shrine, Kylesa, Paradise Lost to mention a few
and have become known for their energetic impassioned live shows. In 2015
Potergeist return after a short break to record their 4th studio album
"Crocodile Tears" produced and mixed by Pete Rutcho (Falling In Reverse,
The Ghost Inside, Deez Nuts, Revocation, Bury Your Dead, Havok,
Seemless...) with cover art handled again by Angry Blue. "Crocodile Tears"
will be out this summer from G.O.D. records and Potergeist are getting
ready to hit the stages once again.