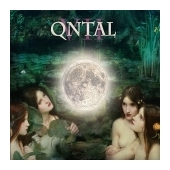 Qntal
Vii
Label: Drakkar
Genre: Dark / Post Punk / Gothic / Neo-Folk
Availability
CD Digi / Cardboard €16.99

In Stock
First limited edition in 6-panel Digipak with special cover-print in 'glow in the dark' ink, 2 exclusive Bonus-Tracks and special 28 pages booklet!
The year 2014 though marks the beginning of a new creative period for Qntal. So far, Sarah "Mariko" Newman supported the band only at live performances, but as of now will be integral part of the line-up. New electronic magus will be Leon Rodt, substituting Philipp "Fil" Groth from now on at the keys and supporting the band as empathetic producer. Furthermore, for the first time in the history of the group, Michael Popp will appear as singer.
The seventh studio album – again simply entitled "Qntal VII" – is ushering in the third era for Qntal and, despite all changes, still remains true to the original virtues. Sensitivity and expertise guide these musicians on their approach to centuries-old lyrics and melodies. Transformed into modern arrangements, lyrics and melodies alike are reanimated virtuousically. Gracious artistry connects with danceable, catchy sounds, always committed to the historical momentousness of the original piece.