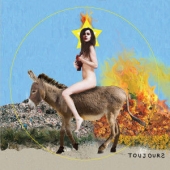 Sabina
Toujours
Label: Naim Edge
Genre: Rock / Pop
Availability
CD Digi / Cardboard €17.99

In Stock
The singer of avant-garde electro-punk outfit Brazilian Girls, Sabina Sciubba is a multi-lingual artist whose music transcends both space and time.
Best known by Naim Label fans for her stunning duet with legendary italian guitarist Antonio Forcione in 1997, the debut record rediscovers Sabina's unique voice, anthemic songwriting, and her signature multi-lingual story-telling, albeit this time within a quite different musical setting.
Toujours was recorded, produced and arranged by Sabina as well as Brazilian Girls producer Frederik Rubens. Of the recording process, Sabina notes, "Toujours was very organic. It took over a year, on and off. I only recorded when I was really inspired and
I kept what I felt was absolutely necessary. I didn't want any redundant ornamentation, never more than four elements at a time. I suppose some would call me a control freak, but on the other hand it's completely imperfect, and low-fi, like me. I'm a control freak about keeping things dirty."
The new music is inspired by the rock and pop classics of the '60s and '70s but within more contemporary recording techniques. Across no less than five different languages, her straight talking debut solo album Toujours is a compelling, intimate, narcotic dreamscape you might call The Parisienne Velvet Underground and Nico, with a surprising sense of humour.
It is New York, new-wave carousing with Serge Gainsbourg, an art-punk, multi-lingual, Marlene Dietrich hypnotising the hobos in a Weimar Republic dive-bar. A lingering side- ways glance at contemporary life, opening track 'Cinema' laments cultural decline, likening the fall of movies to "an old whore who has lost her charms". On the track 'Toujours', meanwhile, she decides "we might as well be happy", the song's DIY, semi-animated video a homage to Pythonesque surrealism, with Sabina on a donkey, playing a ukulele, a star around her head, wearing nothing but a goofy smile.
This is not what we expect from a femme fatale and is in part a rejection of today's sexually aggressive, physically "perfect" pop sirens.
"Hard to imagine a better poster girl for polyglot New York pop than Sabina" - The New York Times
"Glamorous" - Rolling Stone