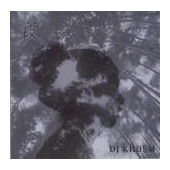 Dj Krush
Jaku
Label: Music On Vinyl
Genre: Freestyle / Nu Jazz / Funk / Afro
Availability
LP x2 180gr AUDIOPHILE €27.49

Out of Stock
Born in 1962 in Tokyo, DJ Krush is the internationally acclaimed producer, remixer and a DJ, who's produced music in vast variety of fields such as films, TV dramas and commercials. As a solo artist, he is greatly revered in the international club scene. He has done countless collaborations with artists transcending genres, such as Black Thought of The Roots, Herbie Hancock and k.d. lang.

After the break-up of his group Krush Posse in late 1991, Krush began pursuing his solo career and soon grabbed people's attention as the first DJ to use turntables as live instruments, doing free sessions with live musicians on stage. His 8th album Jaku was released in 2004, and topped the RPM chart of CMJ for 3 weeks in the US.

As of now, he has performed in front of over 5 million audiences in 313 cities of 50 countries. And he still continues to renew this record, transcending all barriers, and leaving some distinctive footsteps of his own, achieving ever-increasing acclamation as an international artist.