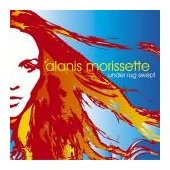 Morissette Alanis
Under Rug Swept
Label: Music On Vinyl
Genre: Rock / Pop
Availability
LP 180gr Audiophile €20.99

In Stock
The fifth album by Canadian singer-songwriter Alanis Morissette, Under Rug Swept, was originally released in 2002. It was the first album Morissette had written and produced all on her own, debuting at number one on charts in 12 countries, including the United States and Canada. The album produced the singles "Hands Clean" and "Precious Illusions".
With Under Rug Swept, Morissette brought back the sound of Jagged Little Pill, a lush, dense layering of loops, guitars, keyboards, and vocals that makes her songs incredibly catchy. While sounding really good, the music flows, the production shines in its subtleties, it's pleasingly melodic, tempering the extremities of Jagged Little Pill while retaining character.
Under Rug Swept was never issued on vinyl – making the Music On Vinyl edition the first one! To celebrate, the first 2000 copies are numbered and pressed on blue transparent vinyl.