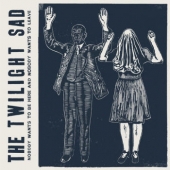 Twilight Sad
Nobody Wants To Be Here & Nobody Wants To Leave
Label: Fat Cat
Genre: Rock / Pop
Availability
CD Digi / Cardboard €16.99

Dispatched within 5-10 working days
Their anticipated fourth studio album follows the release of 2012's No One Can Ever Know. The Scottish trio--James Graham (vocals), Andy MacFarlane (guitar), and Mark Devine (drums)—has also announced a short UK tour before heading off to the USA to tour with We Were Promised Jetpacks. (More UK and European dates to be announced shortly.
Where each album prior to Nobody Wants To Be Here And Nobody Wants To Leave saw the Twilight Sad tackling new sounds and ways of writing, their latest work draws from their entire career. "Over the eight years we've been touring, our live sound has taken on different forms, from full on noise/feedback, to a sparse, synth led sound, to a stripped back set up with just keys, drum machine and guitar, to playing with an orchestra, and to just an acoustic with vocal," says MacFarlane. "We wanted to try and capture all of those elements and develop them in some way to make the new record."
Opting to stay in Glasgow, the album was produced at Mogwai's Castle Of Doom studio, engineered by live soundman Andrew Bush, mixed by Peter Katis (also responsible for Fourteen Autumns), with touring member Johnny Docherty playing bass.