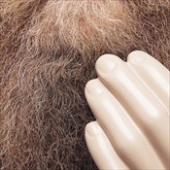 Cowley Neil Trio
Touch And Flee
Label: Naim
Genre: Jazz / Avant Garde
Availability
LP 180GR +MP3 COUPON €25.99

In Stock
Touch and Flee is the new recording from Neil Cowley Trio, and marks a defining moment in the evolution of the band. It is their bravest, most daring album to date, spotlighting the ever- increasing brilliance of Cowley as a composer. With long time band mates, Evan Jenkins on drums and Rex Horan on bass, they jump headlong into new territory to present what they describe as "our concert hall record" for an altogether deeper listening journey.
Gone are the familiar hook laden tunes, repeating riffs and pounding crescendos, replaced, in the main, by shifting, expansive melodies, longer elegant passages, and a broader brush stroke on Cowley's blank canvas.
What is familiar though is Cowley's power to move through music. Exquisitely graceful movements meet with dark haunting passages. And although this is a new direction for Neil Cowley Trio, their personality, and unmistakable sound, still shines through. We hear, for example in the epic, sweeping, Kneel Down a three movement piece containing pulse, power, climax, spaciousness, and then, gentle surprise. The wonky jazz of Winterlude keeps the head nodding while Cowley's proclivity for atmospheric film scores remains.
Undoubtedly, Cowley's confidence and maturity as a composer comes from his experiences of past years. Where Cowley's previous album saw him composing and arranging for trio and a twenty four piece string ensemble, his position last year as Musician in Residence for UK's City of Culture saw him take a crash course in choral harmony as he composed and arranged for a choir.
Touch and Flee was recorded at the legendary RAK studios with Grammy nominated Dom Monks in the producer's chair. RAK has seen some of the biggest names in music record there - David Bowie, Al Green, Michael Jackson, Pink Floyd, Arctic Monkeys, and of course Adele, with whom Cowley recorded the global hit, Rolling In The Deep.
Touch and Flee is the result of three gifted musicians who think as one, growing together, driving forward. A collection of tunes best savoured in a darkened room, at full volume. They demand attention, but as always, deliver to the listener the most blissful of rides.
Produced by Dom Monks