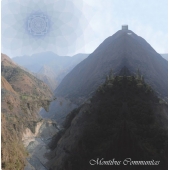 Montibus Communitas
Montibus Communitas
Label: Cosmic Eye Records
Genre: Post Rock / Avant Rock
Debut full length from this moody Peruvian ambient neokraut combo MONTIBUS COMMUNITAS which is an AYAHUASCA DARK TRIP's related band, on

the more ritual side of cosmic music

. Long instrumental excursions into cosmic electronics with a strong ethnic flavour. This spiritual and melodic piece of cosmic art is a heady collection of ritualistic ethno ambient that manifests and commemorates the holiness of the Peruvian mountains. Mountains Community restore

that

mantri

c ambience of Oneness

.

Sergio: percussions / Pedro: guitar, percussions, pan flute, quena, vocals, organ / Carlos: bass / Anna: violin, percussions, vocals / Paul: synthesizer, traverse flute, vocals / Brayan: guitar, percussions, vocals, organ, pan flute, quena