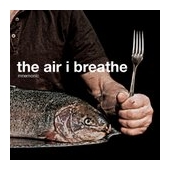 Mnemonic
The Air I Breathe
Label: Halbsicht
Genre: Electronica / Ambient / Experimental
Availability
CD Digi / Cardboard €13.99

In Stock
Michael Belletz adjourns to ancient reliable atrabilious pathways with his new "mnemonic" album "the air that i breathe".
Distant rhythms join hands with weeping melodies, and together they form an audible cold fall scenery which caves in slowly and unpleasantly into the lungs polluted from life.
Still the songs do not sound distraught or strange, rather pensive. Therefore, the album "the air that i breathe" features a faint-hearted, fragile, and deep going phonetic character.