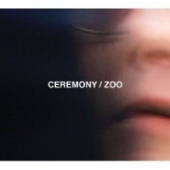 Ceremony
Zoo
Label: Matador
Genre: Rock / Pop
Availability
CD Digi / Cardboard €17.49

Dispatched within 1-4 working days
· The music of 'Zoo' explores punk and post-punk
traditions: the rhythm section remains as tense and
propulsive as ever, while guitarist Anthony Anzaldo
moves with ease from ringing power chords to
stealthy leads reminiscent of Gang Of Four and The
Cramps. Ross Farrar's future primitive vocals
sometimes recall 'Pink Flag' or 'Metal Box', ranging
from a melodic howl to a muttered incantation.

· The band rate this album as their "first fully
comprehensive sounding record", with the results both
gripping and indelible.