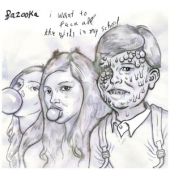 Bazooka
I Want To Fuck All The Girls In My School
Label: Slovenly
Genre: Rock / Pop
Loud and direct from Athens, GR, Slovenly presents the latest dig from our Mediterranean rock mining operation in the form of hard-hitting quartet BAZOOKA.

This unruly crew features double drum kit pummel(John Vulgaris - producer of the phenomenal Acid Baby Jesus LP is one of them), twin guitar attack supreme, and uncomfortably perverted Dave Vanian-esque vox, and the three track wax E.P.

makes nasty on the uber-punk, destined-for-classic status "I Want To Fuck All The Girls In My School," as manifested on the grotesquely juvenile cover art.

Rounding out this 7" circle with bone shaking, super-sonic madness,"Monkey Town" and "Tingle" make this a triple A-side blast of blown out perfection.