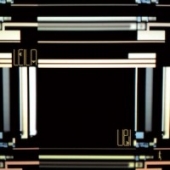 Leila
U & I
Label: Warp
Genre: Electronica / Ambient / Experimental
• The return of sonic sorceress Leila with a new album that demands your immediate attention.

• Former Bjork bandmember and compadre of Aphex Twin, Leila returns with 'U&I', her most direct, powerful album yet.

• Featuring guest vocalist Mt. Sims, 'U&I' features twisted noise and attention-grabbing beats amid tales of technological breakdowns.

• The artwork is a screenshot of a crash on Leila's computer, and when she and Mt. Sims first met at a fancy dress party, he was dressed as a computer processing unit – a prescient move, considering the album to follow.