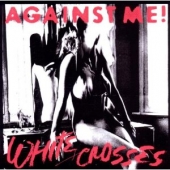 Against Me!
White Crosses
Label: Xtra Miles Recordings
Genre: Stoner / Post Metal / Industrial Rock
Availability
CD x2 Digi / Cardboard €20.99

In Stock
Limited double edition, including 18 bonus tracks and 32 page booklet
White Crosses is the second album from Florida punk band Against Me! The album was produced by veteran producer Butch Vig (Green Day, Nirvana, Smashing Pumpkins) who also produced Against Me!'s 2007 album New Wave. The decision to work with Vig again was a no-brainer. "He gets our band and brings tons of great ideas to the table," says frontman Tom Gabel. "I really can't imagine a better creative relationship."

As far as the album's overall direction, "I feel like we are constantly pushing ourselves to better what we did on the previous record," Gabel says. "New Wave was a great album to make, and now we want to show another side of the band. The new songs feel like a natural progression of where we should be at. Our intentions, as always, are to deliver the best record we can possibly make."