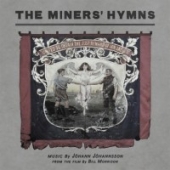 Johannsson Johann
The Miners' Hymns
Label: 12 Tonar
Genre: Electronica / Ambient / Experimental
Availability
CD Digi / Cardboard €13.49

In Stock

· Jóhann is widely known as one of the modern classical /
post-classical genre's flagship composers, helping to define
the genre rather than being limited by it.

· This record is the soundtrack to a found-footage
documentary created by award-winning, acclaimed
director Bill Morrison ('Decasia' etc.). The film will be
released worldwide by the BFI in June 2011.

· Jóhann's score was performed live by a 16-piece brass
ensemble in Durham Cathedral, the setting for the film's
climax and many historic colliery galas – a first for the
predominantly string / piano-based 130701 imprint.

· Jóhann has released several well received full-lengths on
Touch, Type, 12 Tonar and 4AD, as well as having scored
several films, dances and theatre performances.