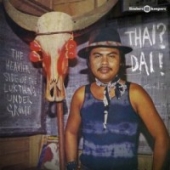 Various Artists
Thai? Dai!
Label: Finders Keepers
Genre: 60s / 70s Rock / Pop / Progressive / Kraut
Availability
Other Formats
The heavier side of the Luk Thung underground.

The follow up to our fastest selling and most sought after
45, the jaw dropping doppelganger Sab-Jam from Sukothai
psych rocker Sroeng Santi - a dysfunctional slice of outside
punk funk complete with bottles and bells breakdown -
'Thai? Dai!' presents 14 slabs of the heaviest Thai funk and
psych rockers ever committed to vinyl.

The styles featured on this compilation fall somewhere
between Luk Thung ('Song Of The Countryside') and Luk
Krung ('Song Of The City'). Bangkok was a particular
melting pot for the evolution of these two genres, the
former alluding to musical themes and lyrics aimed at the
wider national population, the latter looking westwards
with a more urban 'sophisticated' audience in mind. The
tracks here were experimentations or dice rolling by both
little known groups, as well as established figures like
Plearn Promdan.

Finders Keepers Records break new ground yet again with
another forward thinking compilation of accidental-world
music. Expect the unexpected.