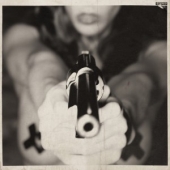 Hinson P Micah
And The Pioneer Saboteurs (Full Time Hobby)
Rock / Pop
Availability: Usually dispatched within 1-4 working days.
• The album was mixed in Argyle, Texas with Matt Pence of Texas outfit Centro-matic, then mastered in Nashville by guys who cut their teeth working on Dylan and Stax Records.

• Some strings were recorded in a canyon in Colorado and some of the strings were recorded in small apartments in Zaragoza, Spain. The string arrangers are Eric Bachmann and "a fella from Spain I call Manitee", and the players include members of Techanko, Devotcha, Crooked Fingers.