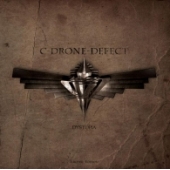 C-drone-defect
Dystopia
Label: Black Rain
Genre: Electro-Industrial
Availability
CD x2 €15.99

Dispatched within 5-10 working days
The project C-Drone-Defect, which has been exisiting for more than 10 years, has become the insiders' tip of the German Electro-scene. Both of the previous CDs, "Neural Dysorder Syndrome" (SPV) and "Nemesis" (NoiTekk) were really successful - but compared to the new album "Dystopia" they appear to be more like rough diamonds. "Dystopia" manages it to raise the bar in terms of songwriting and sound composing that hardly any other project can compare to it. The free Net-EP "Letters from Dystopia" was the famous rumours for glory - the longplayer "Dystopia" met all of the high expectations. Driving rhythms, catchy keyboard soundscapes and a perfectly arranged voice mixed up with some great new ideas and creativity created one of the most incredible Electro-albums of 2010. Threatening - dark - gloomy - hymnal! That's it! Test it! The first limited edition of 1000 copies comes up with an exclusive bonus CD, incl. remixes by Ashbury Heights, Xentrifuge, Autoclav1.1, ESA, Endif, DYM, XP8, Life Cried and more!
CD1
1. Rebellis
2. Morituri te salutant
3. Mente videbor
4. Aegri somnia
5. Orpheus
6. Post tenebras lux
7. Mundus vult decipi
8. Tempus fugit
9. Lex talionis
10. Ratio misericordiae

CD2
1. Rebellis (Xentrifuge Remix)
2. Morituri te salutant (Ave! Mix by Autoclav 1.1)
3. Mente videbor (XP8 Mix)
4. Aegri somnia (ageless Mix by ESA)
5. Orpheus (Life Cried Remix)
6. Post tenebras lux (Endif RMX)
7. Mundus vult decipi (Technomancer RMX)
8. Tempus fugit (Moment of Creation Mix by Syndika Zero)
9. Lex talionis (DYM's Revenge Remix)
10. Ratio misericordiae (Ashbury Heights Remix)....