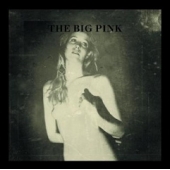 Big Pink
A Brief History Of Love
Label: 4ad
Genre: Rock / Pop
Availability
CD €16.99

Dispatched within 5-10 working days
• 2009 started with a bang, with the ink just drying on a worldwide deal with 4AD – an ap
move as their otherworldly qualities provide a direct sonic connection to some of the
label's most celebrated acts like Cocteau Twins, Dead Can Dance and TV On The
Radio – they appeared high up in the critics vote BBC Sound poll and then received the
prestigious Philip Hall Radar Award at the NME Awards, something that surprised all bu
those that knew what was about to follow.
• Ignoring all pressure, they headed to the Electric Lady Studios in New York to record and self-
produce what was to become their epic debut album, 'A Brief History of Love.'
• The job of mixing fell to Rich Costey (Mastodon, Muse, New Order, Rage Against The
Machine) with the exception of 'Velvet', which was previously mixed by Alan Moulder (My
Bloody Valentine, NiN, Smashing Pumpkins, Yeah Yeah Yeahs).
• The final results are eleven stunning tracks that chart the trials of the heart, set
within a sound-world that combines melody and beautiful noise in equal measure.
• Previous singles, 'Too Young To Love' and 'Velvet' make the cut while live favourites like
'Crystal Visions', 'Dominos' and 'Count Backwards From Ten' all go towards creating a body
of work so strong, it cements The Big Pink's position as one of the finest and most
important bands to emerge in years.