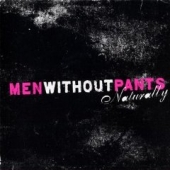 Men Without Pants
Naturally
Label: Vicious Circle
Genre: Rock / Pop
Availability
CD €9.99 Second Hand

In Stock
Men Without Pants is a musical project by Russel Simins (Jon Spencer Blues Explosion) and Dan The Automator (Gorillaz, Deltron 3030...). Special guests include Sean Lennon and members of Yeah Yeah Yeahs, The Pierces, Blonde Redhead, The Mooney Suzuki...
In case you're not familiar, RUSSELL SIMINS is most notably the drummer and co founder of alternative rockers THE JON SPENCER BLUES EXPLOSION. In the 15-plus years that the BLUES EXPLOSION have been together, Simins has gained a reputation as one of the best drummers around. He has performed and recorded with many artists including Tom Waits, Elliott Smith, Yoko Ono, DJ Shadow, Luscious Jackson, Cibo Matto, Beck, Ween, Chuck D, Fred Schneider (B-52's), to name but a few.
Simins also produced, wrote songs for, played drums, guitars and sang on the now cult-fave indie rock record BUTTER 08 (released on the Beastie Boys' Grand Royal label) with collaborators Cibo Matto. In 2000 he came out with the album PUBLIC PLACES under his own name to much critical acclaim, also on Grand Royal, which he also produced.
Dan "The Automator" Nakamura is a San Francisco-based hip-hop producer whose work with "Kool" Keith (Sexstyles, Dr. Octagon) shot him to unlikely acclaim in 1996. As opposed to DJ'ing like his Bay Area cohorts DJ Shadow & DJ Q-Bert (Skratch Picklz), Nakamura turned his attention to crafting his own productions, which eventually culminated in the Dr. Octagon project in 1995. Nakamura's studio, The Glue Factory, also served as the workshop for recordings by DJ Shadow and Latyrx.
Automator racked up a host of other mix and production credits, including Primal Scream, the Eels, DJ Krush, a collaboration with Dust Brother Mike Simpson for Cornershop and the Jon Spencer Blues Explosion (1998's Acme). Nakamura then teamed up with former De La Soul producer Prince Paul to form the Handsome Boy Modeling School. The year 2000 saw the birth of the hip-hop/psy-fi masterpiece Deltron 3030, a collaboration with Del tha Funkee Homosapien and DJ Kid Koala. That same year, Nakamura issued a retooled version of his debut EP (with several extra tracks) under the title A Much Better Tomorrow on Dan's own label 75 Ark. In 2001, Nakamura snared his widest audience yet with the cartoon band Gorillaz, an eclectic collaboration with Blur's Damon Albarn, artist Jamie Hewlett, Cibo Matto's Miho Hatori, and former Talking Heads Chris Frantz and Tina Weymouth. This spawned Nakamura's first major hit single, "Clint Eastwood." Next, Nakamura returned to his Nathaniel Merriweather alias (his Handsome Boy Modeling School moniker) for Lovage, a lounge-flavored, Serge Gainsbourg-influenced project, featuring vocalists Jennifer Charles (Elysian Fields) and Mike Patton (Faith No More).
In 2004, the Automator teamed up with Daryl Palumba to form Head Automatica and released Decadence. In 2006, he produced the tracks for 2K7, the soundtrack to the video game of the same name, featuring performances from E-40, Ghostface Killah and Slim Thug. From 2006 thru 2008, DTA worked alongside Jon Spencer Blues Explosion co-founder and drummer Russell Simins as Men Without Pants, to create the bombastic, instant classic DIY-style album Naturally.
Men Without Pants are:
Russell Simins (Jon Spencer Blues Explosion) - vox, drums, bass
Dan The Automator (Gorillaz) - programming, beats, zither
Sean Lennon - keyboards
Nick Zinner (Yeah Yeah Yeahs) - guitar
Sammy James Jr (The Mooney Suzuki) - guitar, bass, vox
Chris Isom (The Mooney Suzuki) - guitar
Yuka Honda (Cibo Matto) - keyboards
Tada Hirano (ex-Blonde Redhead) - bass
Gillian Rivers (The Pierces, Yeah Yeah Yeahs) - vox, violin
Amanda Garrett (Daylight's For The Birds) - vox, percussion
Plus... Chris Maxwell, Phil Hernandez, Jay Braun, Justin Braun, Jordan Rothstein, Jesse Wallace, Rick Lee, Brian Waters, and Daniel Murphy.