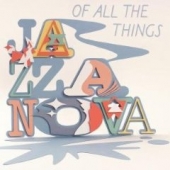 Jazzanova
Of All The Things
Label: Verve
Genre: Freestyle / Nu Jazz / Funk / Afro
Availability
CD €8.99 Nice Price

Out of Stock
With Jazzanova, there are always demands for explanations: "We get asked all the time what exactly the point behind all of this is," says Alexander Barck, one of Jazzanova's DJs, with an ironic smirk. "Sometimes it's funny to us, because we really don't put that much thought into it. We love music, we listen to a lot of music -- old and new -- and we enjoy making music. That's all. We love to be playful, to toy around with it."

It sounds plausible, yet it's quite the understatement. The six-member group belongs to the circle of innovators celebrated worldwide on dance floors, in NuJazz Broken Beat, in modern folk and soul. DJs and vinyl freaks around the globe worship Jazzanova. Their remixes of Masters At Work, Fat Freddys Drop, 4hero and Ursula Rucker are cherished by afficionados. However, even for such different artists as Lenny Kravitz, Common, Azymuth or Calexico, did the six men from Berlin display their artistry by being able to treat distingushed source material with respect, and yet lend all of them an unmistakable Jazzanova sound.

Their mentor, the English A&R person, radio personality and founder of the Talkin' Loud label, Gilles Peterson, recognized their artistry immediately, and contacted the boys directly after their first release to get them to do a remix for United Future Organization. Shortly after that, Jazzanova was solidly booked for years and went on to conquer the dance floors of the world and the hearts of their listeners with their productions and remixes.

The ability to find a common thread between different styles of music is not only highly respected in the international world of music, but also motivates the group to continue to constantly move forward. Their music is authentic, and works equally well "at the Montreux Jazz Festival as well as at your girlfriend's cousin's illegal underground club," writes WaS cultural editor Cornelius Tittel. Where other producers have eight pseudonyms with which they try to hit the same stylistic spot over and over, the six DJs of Jazzanova are able to produce a respectful, otherworldly and unpredictable style mix.

"Calculations don't matter in this process," emphazises Stefan Leisering. "Which genre the music we work with belongs in doesn't interest us, and its hipness factor is irrelevant. The path and the development of the music is the goal. It is fun 'to be in search of the perfect sound,' to go through several different stages and to let the people be part of it".

"Our music can take listeners on a journey," says Alexander Barck, " if we are able to fascinate them, if we are able to get someone who doesn't think he likes Brazilian music dance to a Brazil track and have him say 'I've never heard this before, but it's incredible, and this is now my favorite music,' those are the beautiful moments in a production or in a DJ set."

This enthusiasm, this self- confident and carefree attitude is what you hear immediately on Jazzanova's new, second studio album Of All The Things. For this album, Jazzanova worked once again with several different voices including Leon Ware, Dwele, Phonte (Little Brother), Paul Randolph from Detroit, Ben Westbeech from London, and Jose James from Minneapolis.