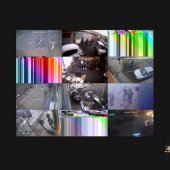 Roller Trio
New Devices
Label: Edition Records
Genre: Jazz / Avant Garde
Availability
CD Digi / Cardboard €16.99

Dispatched within 5-10 working days
New Devices is the 3rd album from Leeds based trio and Mercury Prize nominees Roller Trio. A unique trio, their sound is modern and gritty, pushing sonic boundaries to their limits. Switching the feel of a tune in a heartbeat from edgy improv to anthemic power riffs to reverb-swamped note storms, Roller Trio are powerful and progressive. For this album, the line-up includes Chris Sharkey, a guitarist at the cutting-edge of contemporary guitar improv, alongside James Mainwaring, saxophone & electronics and Luke Reddin-Williams, drums. Their mix of high octane technicality and deceptively catchy tunes has transcended their Jazz heritage, bringing them acclaim from fans and critics alike. Their eponymous debut album was nominated for the 2012 Mercury Prize and the band were also nominated for MOBO's Best Jazz Act that same year.

The new album's theme is as relevant as it could be in today's social climate. New Devices reflects people's confused relationship with technology and the public participation in self-surveillance. As James explains: 'We couldn't have made this album without technology, the devices used in music making and the online communication, yet we're concerned about the future and the impact social media will have on the next generation - Do we really have a grip on our relationship with technology?'.

The music is dark, gritty and urban - menacing bass lines underpinned by squalling improvising from guitar and sax attaining ultimately uplifting fulfilment. Built from sound fragments of Leeds nightlife formed and reformed through the musical intelligence and instrumental brilliance of the three musicians it's an exhilarating, rollicking ride - an exercise in freeform free fall, a three for all free-for-all, moderated by the musical logic and compositional rigour of the pieces.