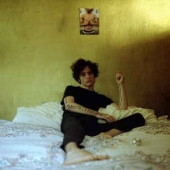 Marietta
La Passagere
Label: Born Bad
Genre: Rock / Pop
Availability
LP €17.49

Dispatched within 1-4 working days
MARIETTA's second album , "The Passenger" follows on "Basement Dreams Are The Bedroom Cream" (Born Bad Records, 2015), a disc very well received by Liberation, Inrockuptibles, Magic, New Noise and Noisey.

After touring with his band for two years and giving concerts in Villette Sonique, Rock in Seine, Levitation Festival, Flying Music, Trans Bars, Guillaume Marietta, winner of the Fair 2017 , returns with nine songs written, for the first time , in French.

- The recording took place in Los Angeles by Chris Cohen (songwriter and producer of genius having released two albums at Captured Tracks and we met at Deerhoof and The Curtains).

- The mix was given to Kenneth Gilmore (permanent member of Haunted Graffiti Ariel Pink ) who also mixed "My Dreams Dictate My Reality" SOKO or "Front Row Seat To Earth" Weyes Blood.

A carnal disc, sensual, melancholy and hallucinated, irrigated by the figures of the woman, the modern city, abandonment, paranoia and redemption.

"The Passenger" inhabited by the ghosts of Syd Barret and Lou Reed also echoes the contemporary productions of artists like Kurt Vile, Cate Lebon, Tim Presley, Kevin Morby and of course Chris Cohen.