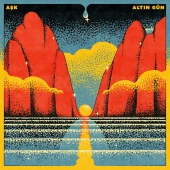 Altin Gun
Ask
Label: Glitterbeat
Genre: Freestyle / Nu Jazz / Funk / Afro
The first thing that grabs you about Altin Gün"s new album is the energy. With "Ask", the Amsterdam-based sextet turn away from the electronic, synth-drenched sound of their 2021 albums, "Alem" and "Yol". While those two, created at home during the pandemic, paid homage to the electronic pop of the 80s and early 90s, "Ask", marks an exuberant return to the 70s Anatolian folkrock sound that characterised Altin Gün"s first two albums, "On" (2018) and "Gece" (2019). But there"s development here too. "Ask" is the closest the band have come so far to capturing the infectious energy of their live performances. "It's definitely connecting more with a live sound - almost like a live album," says bassist Jasper Verhulst. "We, as a band, just going into a rehearsal space together and creating music together instead of demoing at home."

"We didn't record it like we did the last album," agrees vocalist Merve Dasdemir. "We basically produced that one at home because of the pandemic. Now we"ve gone back to recording live on tape." How many more worlds do Altin Gün visit in this joyful expedition? "Rakiya Su Katamam" is glowering space rock as though Gong had taken a stopover on the Bosphorus. "Canim Oy" is a psychedelic freak-beat stomper from a world where Istanbul"s Kadiköy district was the Carnaby Street of the east.

"Güzelligin On Para Etmez" is a dreamy acid-folk anthem. And the finale, "Doktor Civanim," is an irresistible slice of sci-fi disco camp with lava-lamp synth squiggles that wouldn"t sound out of place next to Baris Manço"s "Ben Bilirim." Fresh yet timeless. Rooted in antiquity yet yearning for heavenly futures. "Ask" wants to take you places. All you have to do is strap yourself in.