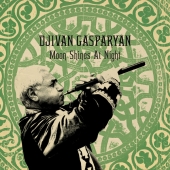 Gasparyan Djivan
Moon Shines At Night
Label: All Saints
Genre: World Music
Availability
LP + MP3 COUPON €26.99

Out of Stock
"Gasparyan's playing produces an equal amount of sadness and sweetness in every note, every phrase, and every song. Simply graceful." - All Music

First ever vinyl edition of Djivan Gasparyan's exquisite second album recorded in 1993, a decade after his classic debut album I Will Not Be Sad In This World. Produced by Michael Brook.

Includes download card to full album plus bonus Machinefabriek re-work of the title track.