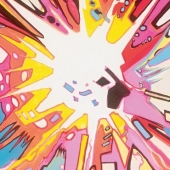 Beak
Kosmik Musik
Label: Invada
Genre: Post Rock / Avant Rock
Two years in the making Kosmik Musik is a collaboration between artist Joe Currie, writer Ben Wheatley and musical group Beak>, who worked closely with the artists to provide a musical accompaniment for the graphic novel.

Ben and Joe met at art school in the 90s where they both were involved in a lot of comic book drawing and reading. It's taken thirty years to finally get their acts together and create this book. In the meantime Joe has been
sculpting and painting. Ben has been writing and directing films.

Kosmik Musik is melting pot of 2000ad, Metal Hurlant, Kirby tech, psychedelic 60s art, Doctor Who, Douglas Adams, Kraut Rock, Star Trek and Star Wars. A UK 70s English childhood basically.