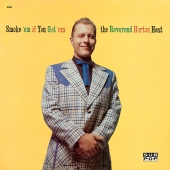 Reverend Horton Heat
Smoke 'em If You Got 'em
Label: Sub Pop
Genre: Rock / Pop
Sub Pop is excitedly, finally repressing vinyl versions of three scorching '90s psychobilly classics by Reverend Horton Heat. All three have been out of print on vinyl since the mid-'90s, with original pressings going for considerable amounts at the ol' junk shop.

The band's 1990 debut, Smoke 'em If You Got 'em, made quite the first impression with frantic stand-up bass, fiery guitar playing, and the Rev's wild howls stirring up a volatile cocktail of '50s rockabilly, punk energy, and sly humor. AllMusic said of the album "it's all sleaze, it's all wrong, and it's all so very, very right," while, on encountering the hit single "Psychobilly Freakout" Beavis and Butthead raved "This dude is weird!" "Yeah, yeah, he's like… our kind of people."

1993's The Full Custom Gospel Sounds of… stepped things up a bit, with fuller production by fellow Texan Gibby Haynes of the Butthole Surfers. In addition to the hilarious "Bales of Cocaine," Full Custom… features the furious "400 Bucks," the atmospheric creeper "The Devil's Chasing Me," and "Wiggle Stick." On seeing the video for the latter, Beavis declared, accurately, "Yes! This guy RULES!" while Butthead agreed, "Yeah… this guy ROCKS! ROCKS!!"

1994's Liquor in the Front gets even more aggressive - heavy, even - sonically, with production by Ministry's Al Jourgensen and the high-velocity opening pairing of the high-velocity instrumental "Big Sky" and the blistering lament "Baddest of the Bad." The highest-selling of the Rev's first three albums, Liquor… was originally co-released with Interscope Records, with the album hitting #18 on the Billboard Heatseekers chart and the single "One Time for Me" hitting #40 on the Modern Rock chart. In the words of AllMusic, "for sheer crank, nothing in his catalog can touch it."

Clear vinyl.