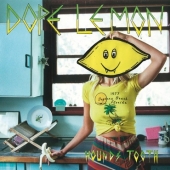 Dope Lemon
Hounds Tooth
Label: Bmg Rights
Genre: Rock / Pop
Hounds Tooth, the latest release from Angus Stone (known to most as one half of sibling duo Angus and Julia Stone) under the pseudonym Dope Lemon is a collection of songs with rich instrumentals and well-formed melodies.

Stone combines flute, horns and melodic bass to produce a South American funk vibe on percussive opener Home Soon. Neon Lights follows, bringing a change of pace with a sweet guitar line, softer vocals and charming lyrics that demonstrate Stone's strong songwriting abilities.

Transparent lime vinyl.