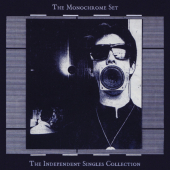 Monochrome Set
The Independent Singles Collection - Rsd Release
Label: Lantern Rec.
Genre: 80s Wave / Rock / Pop / Punk
Availability
LP x2 €31.99

Out of Stock
For the first time on vinyl ! Fully remastered and licensed, ltd to 500 copies.

The Monochrome Set's complete independent singles collection including b-sides and rare tracks. Collected from their time at Rough Trade, Dindisc and Cherry Red, a superb collection of genre defying "new wave" pop. Suave; debonair; sophisticated. Haughty, perhaps, for those who favour the pejorative. Aristocratic in more than one sense, classy in at least as many. The Monochrome Set were effortlessly inventive, literate, poised and immaculate of tuneage, possessed of an internal dialogue as a band that allowed them to surf their own narrative. They were just unlike anything else, in layman's terms. Their sound harked back to a golden era of British pop songwriters. But there was nothing retrogressive about their endeavours. Instead they wrote songs that recreated the drama and promise of a Pearl & Dean interval theme, veering from lullaby to mambo to harmonic pop, accompanied by lush melodies and irresistibly playful lyrics that embraced morbidity at one extreme, and pitch-perfect satire at another.