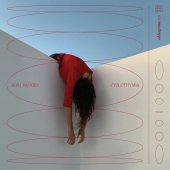 Vanger Jeph
Cyclothymia
Label: Inklingroom
Genre: Electronica / Ambient / Experimental
inklingroom records present the EP of Jeph Vanger - Athens/London based award-winning sound designer, artist and electronic composer, who works in the fields of contemporary dance, theatre, film and art installations.


Jeph's first release encapsulates years of experience in the field of composition for dance theatres, galleries and music for moving images, combined with a deep influence from UK dub and its contemporary mutations. Together, these elements have sparked the creation of intriguing and enigmatic pieces which invite the listeners on a personal journey through anxiety and euphoria.

The original five-track EP (plus rework by Yraki), brings temperament, no-style attachment, but a mix but forward-thinking controlled distortions geared towards intrusive post-dubstep, avant-garde bass sounds, combined by subtle electronics, ambient, drone and AI experiments. It's a complex exercise in electroacoustic composition and a direct vision of a dystopian version of the dancefloor which itself sculpts into the artist's personal statement: "I would like to think of myself as a dance performer… interpreting different roles for each show… I intended to convey it with my worlds of sounds" Jeph Vanger.

In the opening track Xtasis, basslines slice through the tension creating an absolute sense of energy. Combined with subtle ambient touches the track offers the listener contrasting cyclothymic moods, with an emphasis on heavyweight, deconstructed dub-influenced club rhythms.

In the rework version of Xtasis, Yraki brings laser-sharp sound design with wicked vocal arrangements, along with bent highly melodic synths to create an ultra-modern, dancefloor slow-burner. The Italian born and London based producer manipulates his micro-sounds, creating an abstract world of melodies along with a unique blend of synthetic and organic sounds which successfully encapsulates the style and his vision of contemporary club music. The next track, CA Study, is a gentle atmospheric drone piece based on improvisation and a result of AI experiments, almost as the nurture of code made by Cellular Automata tries to forge a connection with the outside world. While on 'Give Up', the highly cinematic atmosphere with auto-tuned vocals and directness of message highlights the whole EP with its hypnotic tone, and progressing basslines.

A combination of different rhythms, heavily distorted bass and abrasive hi-hats in "Fatale" shifts back into Jeph's inspiration of dancefloor-oriented material, this time, raw and noisy.

Finally, over the course of nine minutes, the closing piece "Requiem for Clouds", explores the electronics translated into acoustic lines. Simple cello together, with atmospheric ambient soundscapes and mysterious, sinister vocals create the haunting exploratory experience.