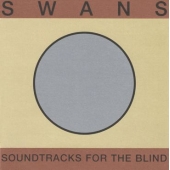 Swans
Soundtracks For The Blind.
Label: Mute
Genre: Industrial / Post Industrial / Experimental
Availability
LP x4 €44.99

Dispatched within 5-10 working days
Originally released in 1996, and the band's last studio album prior to their 2010 reformation. As dramatic excursions go, Soundtracks for the Blind equals the best. Running over two-and-a-half-hours, this would be a grueling enough listen even without the bejeweled brilliance of the ten actual songs nestled among the found-soundscapes, ambient decompositions and twisted electronic noises that constitute the album's remaining sixteen fragments. What is hard to convey in print however, is the flow of the album as a whole, the manner in which a vocal track alternates with an instrumental, the carefully crafted ordering which, ultimately, does so much to gloriously disorient the listener. soundtracks' sheer length and immensity are its own best explanation.