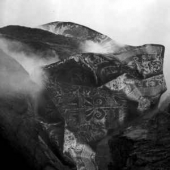 Deaf Center
Pale Ravine.
Label: Miasmah
Genre: Electronica / Ambient / Experimental
Availability
LP x2 +MP3 COUPON €28.99

Out of Stock
2022 Miasmah edition of the now classic debut album by Deaf Center, originally released on Type records in 2005. Full-lenght album version, includes the tracks that were previously only on the CD edition + a 20 minute side of unreleased material from the same timeframe. Released as a gatefold 2xLP with original extended artwork.

'Pale Ravine' is the debut full-length realization of Erik K Skodvin and Otto A Totland under the Deaf Center moniker. More recently known for solo recordings under their own names on the Sonic Pieces label. The album, back then made in their mid 20ies, is an other-wordly sound collagé to Norwegian nature, theatricality and old silent films. The two musicians have looked deep into their own family histories to piece together a dusty and nostalgic epic, blending elements of classical and electronic music with an array of field recordings and a lot of fog.

300 copies.