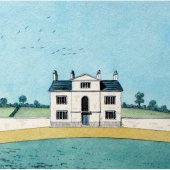 Time Is Away
Fable Of The Bees
Label: Idle Press
Genre: Rock / Pop
This mix was first released as a confidential tape as part of a project by Time is Away at Black Tower in february / march 2020 – a gallery and project space for artists in South London.

This mix is the sound component of the exhibition 'The Fable of the Bees' at Black Tower Projects. By excavating the deep time of speculative development, it evokes the ghosts of London's fragmentary, often contested, improvement.

This a remastered CD version of this mix.