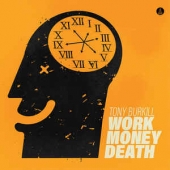 Burkill Tony
Work Money Death
Label: Ata Records
Genre: Jazz / Avant Garde
Tony has made a great album, it sounds like a lost album from the european spiritual jazz scene of the 1970s. A nice balance of themes with spirited playing. Great analogue recording too! - Nat Birchall, Gondwana Records

Fresh new UK jazz talent who can only be destined for great things! This album can only be a future classic. - Jazzman Gerald, Jazzman Records

Tony Burkill - Work Money Death

Released on the 17th of November on Leeds Jazz & Soul label ATA Records, the debut from Tony Burkill "Work Money Death" explores the foundations laid by the great Tenor players of the 60s & 70s: Gato Barbieri, Pharoah Sanders, John Klemmer and John Coltrane, taking inspiration from their work and using it as a springboard for Tenor Saxophonist Tony Burkill's improvisation. Co-written with Bassist Neil Innes, the album attempts to frame Tony's playing within the context of that which has provided the most influence.

Who is Tony Burkill?

A stalwart of the Leeds music scene for the best part of 3 decades, Tony Burkill has so far maintained a low profile nationally, choosing to favour continued study and development on the instrument over attainment of success or recognition within the music industry. Working as a sideman for hire on the local circuit, he has impressed audiences with his powerful and gutsy approach to improvisation, and has been a well-kept secret amongst both musicians and audiences in the north of England since the 1980s.

Recently featuring as a guest soloist on the debut album by The Sorcerers, Tony has been on the radar of ATA Records since the inception of the label. Impressed by his exuberant and earthy performance style they decided to embark on the writing and production of what was to become "Work Money Death", choosing to frame his playing in the context of the performers that have helped to shape his sound, most notably the spiritual jazz of the 60s and 70s.

Featuring on the record are Drummer Sam Hobbs (The Electric Doctor M and Producer of Matthew Bourne's Moogmemory), Bassist Neil Innes (The Sorcerers, Eddie Roberts' Roughneck), Pianist George Cooper (Abstract Orchestra), Percussionist Pete Williams (The Sorcerers) and features a guest performance from Pianist Matthew Bourne on the track "Beginning and End".

Album opener "Third Of All Numbers" begins the LP with a Brubeckian jazz waltz that organically shifts between 3 and 6 time throughout, providing an ever-shifting base for Tony's thematic development of the main melody. "Out Of Sorts With The World" swaps piano for Farfisa organ and lays out a percussion-heavy Ethio-jazz groove that acts as the perfect foil to Tony's bruising John Klemmer inspired performance. The tempo takes a step down on "Out Of a Shooting Star" (a reference to Tony's unusual choice of Saxophone for this recording: A 1960s student model - the Conn Shooting Star) with George Cooper's understated piano playing echoing the tender melody over a constantly evolving bed of flute, bass clarinet and percussion.
"Work Money Death" is constantly propelled forward by Sam Hobbs' agitated drumming and George Cooper's McCoy Tyneresque piano playing, allowing for Tony to channel John Coltrane and Gato Barbieri. The final track "Beginning And End" features Matthew Bourne on piano over a hypnotic pulse of handclaps, bells, drums and bass, evoking Sun-Ra's and Pharoah Sanders' more cosmic output.

New press. Different cover.