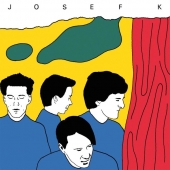 Josef K
It's Kinda Funny
Label: Les Disques Du Crepuscule
Genre: 80s Wave / Rock / Pop / Punk
Crépuscule presents It's Kinda Funny by Josef K - the Sound of Young Scotland on 45, rounded up on 33.

As well as their three legendary 45s on Postcard Records (Radio Drill Time, It's Kinda Funny and Chance Meeting), the album also includes both Crépuscule singles (Sorry For Laughing, Missionary) as well as the original Absolute version of Chance Meeting from 1979. B-side tracks are also included, plus a digital download.

Cover art by Jean-François Octave. Inner bag with liner notes and archive photography by Simon Clegg. Outer sleeve printed on matt reverse board.