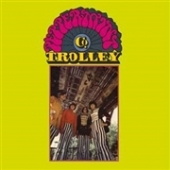 Peppermint Trolley Co.
Peppermint Trolley Company
Label: Out-sider
Genre: 60s / 70s Rock / Pop / Progressive / Kraut
A lovely 1968 US psychedelic/sunshine pop and folk rock LP with baroque elements gets reissued on vinyl (for the first time) with reproduced artwork. The album includes the tasteful singles 'Baby You Come Rollin' Across My Mind', 'Trust' and 'Beautiful Sun'. The band members hailed from Redlands, California.