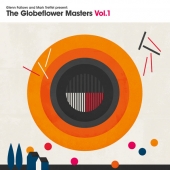 Fallows Glenn & Treffel Mark
The Globeflower Masters Vol. 1
Label: Mr Bongo
Genre: Freestyle / Nu Jazz / Funk / Afro
Availability
LP €28.99

Dispatched within 5-10 working days
The Globeflower Masters Vol. 1 takes its inspiration from classic soundtrack and cinematic composers such as Axelrod, Morricone, Gainsbourg, Jean-Claude Vannier and Piero Umiliani. Created during Summer 2020, this album is the product of a fruitful collaboration between Brighton-based musicians Glenn Fallows (The Impellers / Andres y Xavi) and Mark Treffel (Blue States / The Soul Steppers). These seasoned performing and recording artists have put their abundance of experience and skilful musicianship into effect with aplomb on this album. This is as accomplished a debut release as you will ever hear, and dare we say, a future classic in the making.

The Globeflower Masters project was borne from an idea Glenn had to create an album that leant on the influence of soundtrack and library composers - particularly of the late 60s and early 70s. This rich sonic palette had previously been innate in his writing and composition but, for this album, the direct inspiration was placed front and centre. After penning several sketches, Glenn contacted Mark to fulfil the vision he had for a complete sound. Mark had an arsenal of vintage synths, pianos and other fun toys which could supplement the drums, guitars and bass that Glenn had been working on. As the album progressed, the pair worked increasingly collaboratively, with each of them starting and sharing ideas to curate the final eight finished tracks.

The results are an album of lush, warm, timeless productions that are drenched in strings and classical instrumentation. Awash with atmospheric excursions, it is a listening experience that moves you through moods whilst transporting you to a world of deeply evocative settings and imagined scenarios. The Globeflower Masters Vol. 1 resonates equally as well on a dark melancholic Winter's day as it does sound-tracking a halcyon Summer day. Though influenced by 60s and 70s productions the record is not a simple pastiche, feeling both simultaneously brand new as well as authentically retro.

Stunning debut album filled with lush, warm, timeless productions.

Taking inspiration from classic 60s and 70s soundtrack, and cinematic, composers such as Axelrod, Morricone and Gainsbourg.