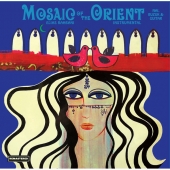 Rahbani Elias
Mosaic Of The Orient
Label: Right Track
Genre: Freestyle / Nu Jazz / Funk / Afro
Beautiful mix of eastern sounds and western rhythms, with haunting melodies, nice drum breaks and using traditional arabian instruments alongside organs and drums.

Compilation of tracks from the two Mosaic of the Orient LPs released in the 70's - beautiful psychedelic funk gems.

Right Track is a specialized music label based in Beirut - Lebanon. As an IFPI certified member they are the exclusive Licensee and distributor of multiple international and regional labels in addition to a range of Lebanese Artists. From Omar Khorshid's arabian-funk to Fairuz's eerie songs, from Ziad Rabani's proto-disco to lebanese traditional Wadih Al Safi compositions, Right Track is committed to re-releasing the Immortal Arabic music repertoire on 180 g vinyl, delivering the highest possible quality from remastered audio to satisfy the demanding audiophile connoisseurs.