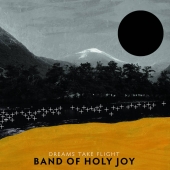 Band Of Holy Joy
Dreams Take Flight
Label: Tiny Global Productions
Genre: Rock / Pop
Dreams Take Flight transitions from political discourse into a post-virus rebirth of human relationship and the inevitable fumblings of the society's psychological reconstruction over the forthcoming year. Have you ever wondered what purpose your joy or my pain? All those moments shared together to be washed away by the rain . . . Have you ever doubted our super hipster being love-in at all? Just a pair of urbane fools passing through waiting for our call . . . Take a leap into the great unknown.



Almost perversely heart-on-sleeve, Johny Brown and compatriots have never fitted well within a particular scene - nor have they ever seem to try. Although recorded under the existence of quarantine and a healthy amount of paranoia, in search of the joy of greatly hindered collaboration, the band has opted to turn over each song to a different visionary video artist for an exhibition which will take place for a week at London's Gallery 46 beginning at the end of February and open to the public. The video exhibition will subsequently be available online, before the album's release.



While still featuring some of the band's strongest songs, Dreams Take Flight has a strange film-like ambience in parts, almost as if planned as a soundtrack, a thought mirrored in Inga Tillere's sublime, dream-like sleeve, best seen in real life. "A Leap Into The Great Unknown" and "Notes From A Gallery" will likely be heard as too disarmingly direct for radio, and the videos will likely never see the entry door to MTV, but Dreams Take Flight will ultimately be considered a masterwork of clarity in a confused, contentious time.