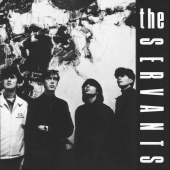 Servants
She's Always Hiding
Label: Optic Nerve
Genre: 80s Wave / Rock / Pop / Punk
Limited 3 track 7" Pressed on Half & Half Blue/Clear vinyl Includes postcard and poster

Part of the Optic Sevens 3.0 Reissue Series

The Servants debut originally released in 1986 on Head Records is backed here with Loggerheads, that was recorded during the same session as the A side and a track that David Westlake has always wanted to appear on 7". The second track on the B side is a previously unreleased version of the A side that was recorded in 1985. Produced by Adrian Borland, who also plays keyboards on the track.