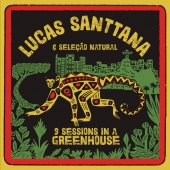 Santtana Lucas
3 Sessions In A Greenhouse
Label: Mais Um Discos
Genre: Freestyle / Nu Jazz / Funk / Afro
""The liveness and lightness of the sessions shines through...Bass enjoys pride of place, while spiky guitars, harmonised brass, and voice take turns in the foreground, echoing into muted silence at the stroke of a fader...This is as solid a dub outing as has issued from anywhere beyond Jamaica." 7.4 in PITCHFORK

"Futuristic splicing of samba with Black Ark-style dub...A 2006 Brazilian cult item" MOJO

"This remarkable LP finally gets to obtain the wider appreciation it deserves" THE WIRE

Presented on vinyl and streaming platforms for the first time ever - remastered by German dub shaman, Stefan Betke/Pole - the album features Tom Zé and manguebeat pioneer, Gilmar Bola 8. Lucas Santtana's 3 Sessions In A Greenhouse fuses psyched-out samba and baile funk with original Black Ark-style studio distortion and spiritual dub dread, laying the foundations for his seminal Sem Nostalgia LP five years later, and in the process, establishing Santtana as an elemental force of Brazil's current new wave.

"At the beginning of my career, I was experimenting, trying to figure out my sound. On 3 Sessions In A Greenhouse, I discovered what I am and what I wanted to do in music. All the pieces connected. Everything just felt like the right place at the right time."

From discovering Coltrane, Pierre Schaeffer and Bulgarian Choirs at an early age to playing flute in Gilberto Gil's touring outfit in 1990s whilst learning guitar and writing songs on the side in hotel rooms, it was clear from a young age the Bahia-born polymath was no stranger to stylistic intersections nor would he become a stranger to versioning classic album tracks in dub.