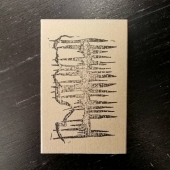 Emi Path / Ghone
Dive Deep / Nier Laaz Os
Label: Emi Path / Ghone
Genre: Electronica / Ambient / Experimental
A release featuring music from Emi Path ft. Spyros Tzekos and Ghone, catering to listeners that enjoy ambient, drone, noise musical explorations.

This split album opens with a captivating chanting section performed by Emi Path, reminding the listener of a Diamanda Galas vocal performance with a drone sound accompaniment. The rest of this exciting 26-minute song by Emi Path and Spyros Tzekos, features a variety of sounds and melodies, briefly showing themselves to the listener and then receding again back into the drone background only to re-appear in a new form.

The second side showcases new music from Ghone, a project-staple of the Greek ambient/drone scene. In contrast to the first side, there are few melodies to be found here as Ghone paints a picture of suspension between states using noises and sample recordings. The listener gets captivated by the layers of sound in what proves to be an all-encompassing musical experience.