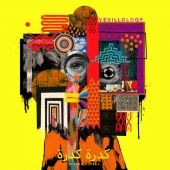 Guedra Guedra
Vexillology
Label: On The Corner
Genre: Freestyle / Nu Jazz / Funk / Afro
Named as March 2021 LP of the Month and also picked in Mixmag's best of the year (so far) Vexillology has landed.
Guedra Guedra's debut LP is kicking down borders, throwing down rhythms and landing depth charges into the foundations of 2021.

From his Casablanca studio Guedra Guedra has constructed a World from underground bass cultures and rode them into the rivers of rhythmic history.