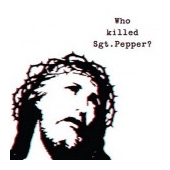 Brian Jonestown Massacre
Who Killed Sgt Pepper?
Label: A Recordings
Genre: Rock / Pop
Availability
CD Digi / Cardboard €8.99 Nice Price

Out of Stock
Recorded in early & late 2009 between Iceland & Berlin with an US tour inbetween the Brian Jonestown Massacre move forward with this new full length album , "Who Killed Sergeant Pepper ?". Working with musicans of the likes of Will Carruthers (ex Spacemen 3 & Spiritualized) , Unnur Andrea Einarsdottir (who recorded vocals on the last BJM album) & Felix from the Russian band "Amazing Electronic Talking Cave" & other musicians from France , Germany , & Iceland , this is the band's most multi cultured re-lease to date ,while obviously keeping the band's trademark style throughout this album . 13 tracks ranging from the ambient bhangra beats , to rock , to shoegazing , to gypsy influences of Eastern Europe music & then back again to the subliminal all twinged with the psychedelia of the band .