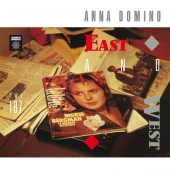 Domino Anna
East And West ( Expanded Edition )
Label: Les Disques Du Crepuscule
Genre: 80s Wave / Rock / Pop / Punk
Availability
CD x2 €14.99

Out of Stock
Les Disques du Crepuscule present a new, remastered 2xCD edition of East & West, the bittersweet debut album by American singer-songwriter Anna Domino, originally released by the label in 1984.

New 15 track bonus disc includes collaborations with The The, Stephin Merritt, Ultramarine, Marc Moulin, Luc Van Acker and more..

East & West was recorded in Brussels in 1983 with guest contributions from Virginia Astley, Blaine L. Reininger (of Tuxedomoon) and Luc Van Acker. The five tracks on the original mini-album included her first single Trust, In Love (an NME single of the week), as well as an exquisite cover of Aretha Franklin's classic Land Of My Dreams. Rare b-side track Repeating (from the same sessions) also features, and well as 7 tracks recorded live in Japan in 1987.

New bonus disc North & South collects together 15 collaborations and guest vocals recorded between 1984 and 2020. These include Zanna, her popular early duet with Luc Van Acker, vocal cameos with electronic artists including Ultramarine, Buscemi and Marc Moulin, and collaborations with The The, Stephin Merritt, Stanton Miranda and Kid Montana. The disc also features intriguing lost song Crime, with lyrics based on Anna's conversations with friend and celebrated artist Jean-Michel Basquiat.

The new CD edition retains the original cover art by Joel Van Audenhaege, and adds liner notes written by Anna herself about her formative music experiences in New York City, and the writing of the songs on East & West.