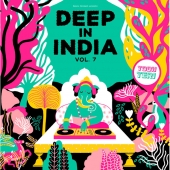 Teri Todh
Deep In India Vol. 7
Label: Todh Teri
Genre: Freestyle / Nu Jazz / Funk / Afro
The world may have come to a halt these days. However, Todh Teri & his international bunch of merry pranksters never stop digging the rich Indian cinema music back catalogue. With Deep In India Volume 7, they have emerged & presented their best work for a
globally keen audience.

The first on this record - Sampadan 22 - is an italo cut, reminiscing the glittery disco divas of the 80s & beyond. The disco fever continues with Sampadan 23 where brand new disco prankster La Jawab reworks the quintessential Indian cinema classic track - with an ever cascading French touch.

Todh Teri slows down the platter with Sampadan 24, and turns up the acid on a deeper interpolation of a 90s Bollywood chartbuster. And finally with Sampadan 25, Deep in India repeat offender Kone Kone flips nostalgic Indian dreams into head-nodding boom-bap beats.

Brand new music for a brand new world - waiting to fill your bodies, minds & soul - with that funky goodness that you need.