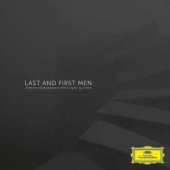 Johannsson Johann & Glotman Yair Elazar
Last And First Men
Label: Deutsche Grammophon
Genre: Electronica / Ambient / Experimental
Availability
LP x 2 + BLU RAY BOX €51.99

Dispatched within 5-10 working days
Other Formats
While composing haunting, elegiac concept albums of lost utopias and working for TV and film the Icelandic composer Jóhann Jóhannsson was thinking about a project on an even larger scale since 2010 - a multimedia work that would include his own visual concept, direction and music.

Based on the cult science fiction novel by Olaf Stapledon, Jóhann Jóhannsson's opus magnum Last and First Men artfully combines music, film and narration from Tilda Swinton, sitting somewhere between fiction and documentary to form a poetic meditation on memory and loss.

Images of a decaying futuristic landscape – filmed in 16mm black and white in the former Yugoslav republics – are placed against Jóhannsson's haunting orchestral score, crafted over seven years, before its live premiere at the 2017 Manchester International Festival. At the time of Jóhannsson's death in 2018 he was still working on Last and First Men, revising it considerably from the version that premiered at the MIF, helped by Berlin-based composer and sound artist Yair Elazar Glotman who finished the score subsequently, whereas cinematographer Sturla Brandth Grøvlen continued Jóhann's work as a stand-in-director and endeavoured to complete the film. The recording features Jóhannsson's long-term musical collaborators like Hildur Guðnadóttir (vocals, cello, percussion), members of Theatre of Voices etc.

The film will be premiered at this year's BERLINALE and released for the first time in bundle with the original score recording on CD and within a Limited Deluxe Vinyl Art-Edition.