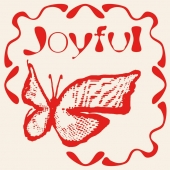 Andras
Joyful
Label: Beats In Space Records
Genre: Techno / Tech-House / House / Trance
Availability
LP €22.99

Dispatched within 5-10 working days
70s acid folk and 90s acid house, Joyful is an invitation to till an old garden in a glistening new light.

A thirteen year old Andrew Wilson sits in the back of his parents' sedan, driving down the coast from Melbourne. Headphones covering his awkwardly aged ears and connected to a jam-packed mp3 player, he experiences an intense synchronicity when the car careens over a mountain crest in the Otway Ranges right as the track in his ears peaks. A momentary vision of a "first rave rush," in which Australia's lauded party history dances tellingly with this dreamer's destiny.

Not so much later but perhaps more worldly and certainly more aware, Wilson returns home from touring, now a "veteran" of the dance world, to realize a different synchronicity in his record collection. Finding Ian Van Dahl nestled next to John Fahey, William Orbit spine-to-spine with Shira Small, the harmony between folk music of the early 70s and dance music from the 90s becomes perfectly audible in unimaginable ways.

Through an afterglow from both summers of love seeped in shared sonic soil, on Joyful, Wilson cultivates melodic drama and tenderness, memorable hooks and rapturous arpeggios; sentimental strings summon both joyful aspirations and the shadows of faded dreams. Using folk songs as fodder—lyrics, samples, note progressions—each entry of Wilson's debut album under his Andras moniker is a return to a different springtime of the mind.

Many artists working in Australia can relate to the feeling of "not quite being there," as Wilson describes it. Always a couple years behind trend. Turning up at the party as it's winding down. Fearing that in many ways the culture is looking backwards, confirming the narrow outlook of a parochialism that many have worked tirelessly to disprove. Using this disconnect as an invitation to dream another dream, Joyful becomes the soundtrack of early teen Andrew's fantasy of Utopic parties past, specifically the late discovery of a bygone warehouse rave scene, as well as a return to a guileless chapter of personal history as heard through plain, sane, and simple folk melodies. Joyful is a homecoming, a testament to the evolving euphoria of a flower garden rooted in earth's tender rot, of birds and bees flying free but not without a changing landscape in sight.