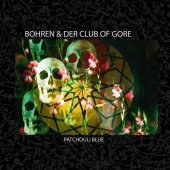 Bohren & Der Club Of Gore
Patchouli Blue
Label: Pias
Genre: Post Rock / Avant Rock
Availability
CD Digi / Cardboard €18.99

Out of Stock
German cult band Bohren & der Club of Gore release their eighth studio album via [PIAS] Recordings.

The band have built a loyal international fanbase on the back of their trademark 'Doom Jazz' sound and count musical icons such as Mike Patton and Stephen O'Malley among their fans.

Strictly instrumental, this band and their sound have the healing power to survive these hectic modern times.