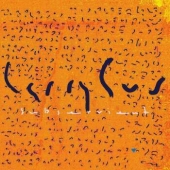 Larry Gus
Subservient
Label: Dfa
Genre: Electronica / Ambient / Experimental
Availability
LP + MP3 COUPON €27.99

In Stock
Larry Gus (real name Panagiotis Melidis) returns to DFA with Subservient, his fourth release for the label. Due for release on 25 October 2019, Subservient sees more pop-oriented than his previous albums, a lush combination of "crisis funk pop and trad Mediterranean grooves." Lyrics sung in Greek and English address Larry's overwhelming struggles with being a father, husband, artist, and human in 2019. In the artist's own words, this album is about "trying to understand empathy and act with it on everyday life," as well as "the imperative of empathy above everything else."

Subservient is sample-free, a first for Larry, who plays every instrument himself: a drum kit, an SM57 microphone, a guitar, a bass, a TE OP-1 synthesizer, and a Roland JV-1010 synth module. This is fourth-world power pop, as if Alex Chilton was produced by Eno and Hassell. The thoughtful, upbeat arrangements and gentle vocals are spacious and warm, and tend to offset whatever darker tone the lyrics might imply. Larry confronts more acute tensions, such as being a father in Greece during the crisis, and the parallels of a child's sicknesses and adult ailments, as well as larger, more existential pressures – the grasp of nostalgia, the weight and meaning of making decisions, and the desire to move from hermeticism towards sociability.

The record graciously explores the nuance that can be found within delineated lines: pop and folk music, rooted in Greek tradition; internal anxieties and empathy expressed outward; the tightrope struggle of living in the present and wallowing in the past.