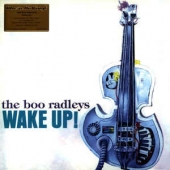 Boo Radleys
Wake Up!
Label: Music On Vinyl
Genre: Rock / Pop
Availability
LP 180gr Audiophile €22.99

In Stock
The Boo Radleys' third album Wake Up! reached the number one spot in the UK album charts. Although their previous albums received critical acclaim, this was the album that opened the doors to a much bigger audience. One of the factors was the release of the sunny Britpop Top 10 single "Wake Up Boo!". It became their biggest hit internationally and it was the most-played song on the UK radio in 1995. The second and third single, "Find The Answer Within" and "It's Lulu", also charted in the UK Top 40. Different styles of British pop can be found in their music, but most of the darkness of their previous records are replaced by the grandpop with big choruses and bright melodies.

180 gram audiophile vinyl
Gatefold sleeve
Limited edition of 1.000 copies on turquoise vinyl.